Guests
Our Special Guest – Jimmy Khan
The Khans, Khorshed, her daughters Diana and Bapsy and her 16-year-old son Jimmy met Avatar Meher Baba in the summer of 1960 at Guru Prasad in Pune. "I met Beloved Baba, I guess over a 100 times in Guru Prasad and once at Meherazad," recalls Jimmy. When Meher Baba dropped his body in 1969, Jimmy was one of the handful of volunteers who spent 7 days when Baba's body was in the crypt. Jimmy has had the distinction of sharing his stories of being in Baba's presence to audiences on four continents. As a measure of selfless service, Jimmy conducts bus tours of seekers from Mumbai to Meherabad and Meherazad and several thousand seekers have taken these trips over a period of several years. 
Our other special guest – Peter Nordeen
Peter Nordeen is a builder by vocation – but by avocation, he is a Meher Baba historian, having studied Baba's life and teachings for over 40 years. Peter was a resident of Meherabad when many of Baba's old disciples were still alive. From them he had the opportunity to glean many stories of life with the Master. In 2003 Peter wrote and produced the biographical documentary, GOD IN HUMAN FORM: the Life and Work of Avatar Meher Baba. A few years later he produced the music video, "You Alone Exist".  Peter has written several histories of Meherabad used for historical walking tours and for the Trust website. He has just completed a booklet entitled 'The History of the Tomb-Shrine of Avatar Meher Baba'. Peter and wife Debbie continue to make yearly trips to Meherabad, where Peter works on projects in AMB Trust Archives and also AMB Trust Publications….as well as helping with historical building preservation.
Our Musical Guest – Adrienne Shamszad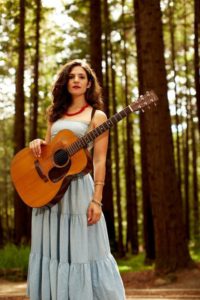 Adrienne Shamszad first discovered her love for music at an early age. Her earliest memories are of singing songs she would write and being told to either sing louder or quiet down depending on how cramped the car was on long drives with her family. Her life is, and always has been, seen and felt through a filter of music and poetry. In this way, life and art are not separate from each other. She sings the blues with a Persian flare and writes songs about Love and Longing. The guitar is her main and favorite instrument and as she evolves as a person, so does her playing which is mostly inspired by a combination of folk and rock & roll. Adrienne recorded and released her first (and currently out of print) CD at the age of 16. It was called "Take me, I'm Yours." Two years later, she made her first trip to Meherabad with her high school guitar teacher, Cindy Lowe.
Her long-time fascination with India and close friendship with Cindy is what led her to take the trip. Seeing Meher Baba's picture hanging from the wall in the Guru Prasad memorial in Pune was the fateful moment where Lover and Beloved were recognized in the other. Adrienne has been saying, "Take me, I'm Yours" to Baba ever since.